Literacy
Metro ECSU offers customized training and instructional coaching for promoting E-12 literacy learning.
Increasing Content Area Literacy through Strategic Learning Practices
Teach your students how to engage in the content you teach. This training provides participants strategies for engaging and challenging students to become independent readers, writers, speakers, listeners, and thinkers preparing for 21C skills.
Navigating the Front Loader: Breaking Ground on "Essential Vocabulary"
This training provides an in-depth look at the importance of functional vocabulary and language development. Participants will walk away with practical strategies for determining essential vocabulary for rigorous language development.
Strategic Instruction Model (SIM™) for Literacy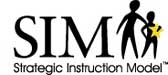 The Strategic Instruction Model (SIM) offers two kinds of interventions to address the performance gap, the gap between what students are expected to do and what students are able to do.
Read more information about SIM
The Write Stuff: Revisiting the Six Traits of Writing
This training provides vocabulary for describing the qualities of writing. Learn how to provide feedback and score student's writing along with learning strategies for prewriting, revising, and editing.
The Power of Non-Fiction Writing
This training will teach participants how to make the connection between reading and writing critical for comprehension. Learn strategies for writing and thinking with expository texts.
Contact Information
Julie Frame, Executive Director, 612/638-1508, julie.frame@metroecsu.org
Cooperative Purchasing Services
A wide variety of products are available with our program, the Cooperative Purchasing Connection. Vendor contracts are established through a formal bid process conducted by Minnesota Service Cooperatives (MSC).
Metro ECSU Membership
Active membership in Metro ECSU is open to each public school district which has chosen to join the cooperative by paying the appropriate membership fees. With membership districts can participate and vote in the governance of the co-op.
More Information